Introducing #MonsterSaxVST, the lightweight (only 50+ MB) and FREE saxophone VST that grants you access to an extensive range of articulations. Experience the magic of Legato, Bending Notes, Staccato, Slur, Major and Minor Trill, and Growl – all in one package!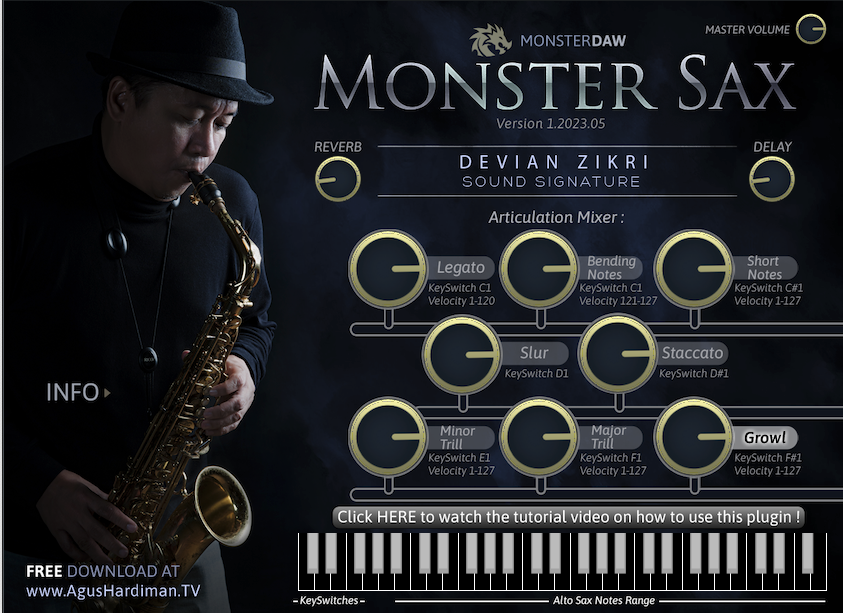 MONSTER Sax v1 Devian Zikri is the first-ever Artist Signature Series from MonsterDAW, with more exciting and upcoming releases of another artist on the way.
All the samples in Monster Sax were recorded using a Neumann TLM103 mic. This high-quality recording ensures that MONSTER Sax v1 delivers an authentic and unparalleled saxophone sound, giving you the ability to elevate your music to the next level!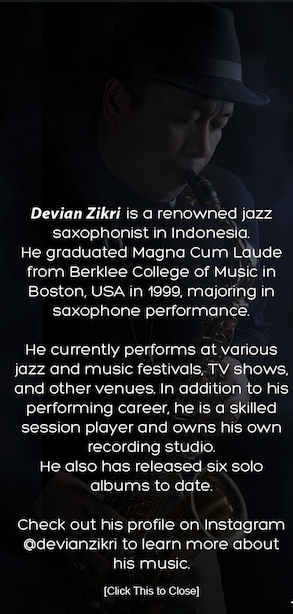 Special thanks to my friend Devian Zikri for generously contributing the sampling of his Yanagisawa Alto Saxophone, recorded using a Neumann TLM103 mic in his professional studio.
He is a renowned jazz saxophonist in Indonesia, and graduated Magna cum laude from Berklee College of Music in Boston, USA in 1999, majoring in performance.
He currently performs at various jazz and music festivals, TV shows, and other venues.
More info about Devian Zikri can be found at his Instagram, @devianzikri.
Indulge in the authentic sound of the saxophone with 8 articulations and playing effects. Watch this video demo showcasing the various articulations in action and witness the unparalleled quality and realism of MONSTER Sax v1 for yourself:
The best part of using MONSTER Sax v1 VST is its constant expansion. Stay tuned for new releases from our Artist Signature Series, which are regularly added to provide you with even more options and possibilities to elevate your music to new heights!
This plugin is under the MonsterDAW brand, which previously was hosted at www.MonsterDAW.com but has moved to this www.AgusHardiman.TV
Notes: MonsterDAW is a brand owned by me, Agus Hardiman, the host of this AHTV Blog
Monster Sax v1 Video Manual, a Must Watch!
To fully unleash the power of MONSTER Sax vst, it highly recommends watching this comprehensive instructional video that showcases its features and provides valuable playing tips:
Monster Sax v1 Sound Demo
Here's the official sound demo of Monster Sax, enjoy !
Matthijs Hebly from the Shameless Plugs YouTube channel made a unique demo of Monster Sax. He uses Reaper's MIDI generator and adds his own insanity:
Wanna listen to Monster Sax playing a standard jazz tune? Check Joe Ortiz's video of 'As Time Goes By' :
YouTube channel Josh Spurling made a unique demo of Monster Sax, utilizing all the articulations:
EZ Youtube channel made a cool demo of Monster Sax, have a look here :
Freccero Production Studio made a review of Monster Sax and he said it's a 5/5 stars plugin (I'm flattered ???? ):
Astral Music & Tutorials made dope lo-fi music using Monster Sax, check it out here:
Have you tried Monster Sax and want to show what it can do? Make a review or sound demo and let me know via the CONTACT page on my AHTV Blog or on social media. I'm always on the lookout for new and exciting content to feature!
Monster Sax Features (v1-2023.05)
Experience a complete range of articulations with MONSTER Sax v1, including normal Legato, Bending Notes, Staccato, Slur, Major and Minor Trill, and Growl.
Customize each articulation to your preference with the individual volume controls. Tailor MONSTER Sax v1 VST to your unique style and take your music to the next level with ease!

With a lightweight size of only 50+ MB, enjoy unparalleled sound quality and performance without sacrificing precious storage space on your device!
Global Volume, Reverb, and Delay FX.
Parameter Automation to dynamically change sounds that fit your music (Read below on 'How To Automate Monster Sax Parameters').
The Parameter/Knob value is reset by double-clicking it.
Major plugin format: Windows 64bit DAW, Mac VST, and Mac Audio Unit (AU). If you're a Pro Tools user, please use BlueCat Patchwork to use this VST in your PT.
Monster Sax Download Links and Installation Steps
Monster Sax doesn't have an installer so you have to place the files manually. Follow these steps carefully:
1. Download The Monster Sax MAIN Player
Click and download one of the FREE main players of Monster Sax according to your OS (Mac or Windows) and the plugin formats (VST or Audio Unit):
These are the alternative download links if the above failed (Google Drive):
2. Unzip and Put It In Your DAW's Plugin Folder
Unzip the download files and put the main file (.vst3 or .component or .dll) in your DAW's plugin folder (Googling "daw plugin location mac windows").
3. Download The Monster Sax's Library
Download this Library file:
This is the alternative download links if the above failed (Google Drive):
Unzip it and put it into any folder/external hard disk (But don't change the folder structure in the original zip file).
4. Load Monster Sax in your DAW and Choose Library Location
Fire up your DAW and insert the MONSTER Ethnica plugin (usually under AgusHardiman.TV folder/brand).
Click "Choose folder" to change the soundbank/preset location and point it out to the folder location of Monster Sax Library: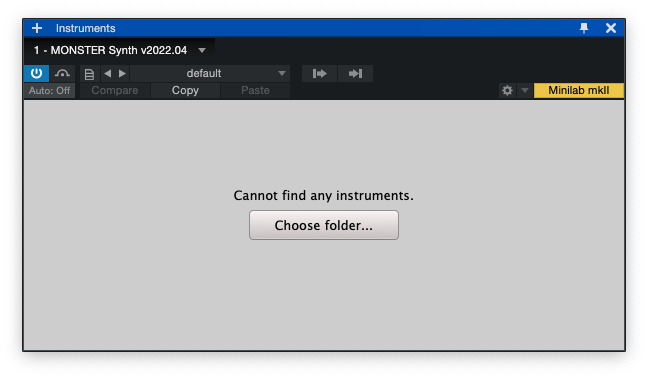 5. Play and Record!
How To Automate Monster Sax Parameters?
In Cubase, after inserting the Monster Sax plugin, you have to open the automation lane (I'm using Monster Synth as the example):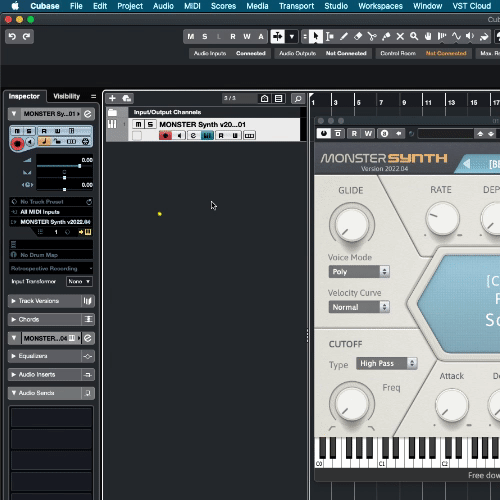 In Studio One, go to the Piano Roll and add the parameters to automate (I'm using Monster Synth as the example):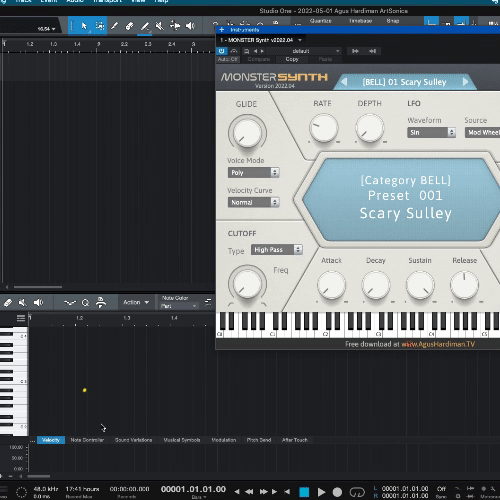 In other DAWs, find a way/to Google on how to add automation lanes/tracks.
FAQ About Monster Sax
Q : I want XXX and YYY features of Monster Sax, can you program it?
A : To be honest, I'm a professional musician and audio educator BUT I'm not a professional plugin programmer. I do this just for fun, so your request may not be available (but you can always try to ask me via the CONTACT page).
Q : Why there are no VST 32-bit versions anymore?
A : In the past, I made a 32-bit version of my VST. But now my programming software CAN'T output 32-bit plugin anymore, so I'm not providing 32-bit.
Q : I have a problem using this plugin on my Mac, I'm using Monterey/Big Sur/Catalina. It says that the files are damaged or can't be opened because the developer is not trusted.
A : That problem was caused by Mac OS security which is now very strict. I have applied for a developer account in Apple to be a trusted developer but they haven't responded to my inquiry yet.
In the meantime, please watch these videos (If this is not working, it's ok, you can pass my VSTs ?):
Or read these articles:
And googling about it (some famous plugin developer experience this too).
Monster Sax Version History
Version v1-2023.05 (released on May 3rd, 2023):
Spread This Plugin To Your Friends
If you find this plugin useful, please spread this to your friends!
You can support me by joining membership of my Patreon : https://www.patreon.com/user/membership?u=91573631
If you make music using this and share it on your social media, please include the hashtag #MonsterSax or #MonsterSaxVST so I can find it.
If you want to get notified when this plugin is updated, sign up for AHTV Newsletter on the front page of AHTV.
ENJOY!