Are you aspiring to become a music producer, but struggling to create captivating chords for your next hit?
Have you followed numerous YouTube tutorials on "how to make chords," only to find it incredibly challenging to master?
Are you in need of a spark to compose a song?
Or do you want to make music but didn't have music theory knowledge at all?
Fear not, because MONSTER OctaChord is here to save the day!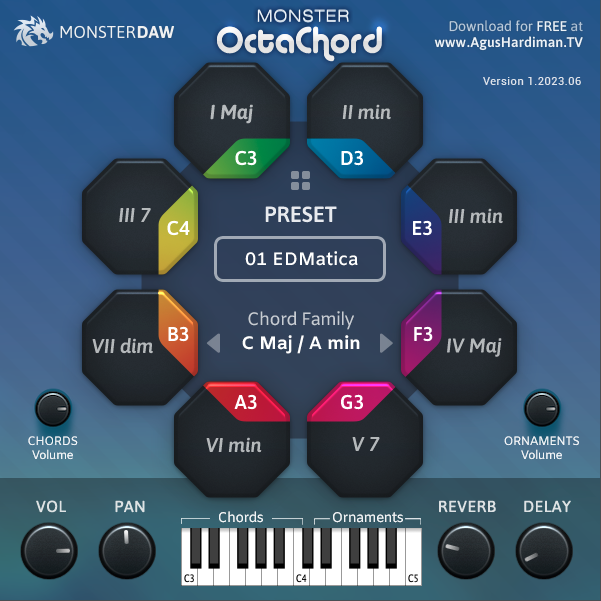 MONSTER OctaChord Features
With just pressing a single note, MONSTER OctaChord effortlessly generates complex or simple chords in various genres of your choice. Whether you're into LoFi, Techno, Cinematic, R'n'B, Reggaeton, Pop, or more, this plugin has got you covered.
Each preset in MONSTER OctaChord includes a complete set of 12 scales. This means you can choose whether your song is in G Major, D Major, F# minor, B minor, or any other key you prefer: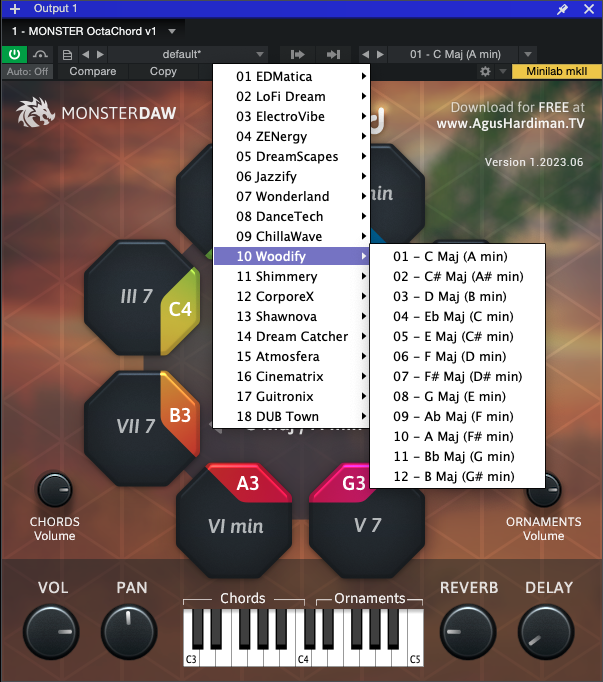 To complement the chord sets, MONSTER OctaChord also provides an Ornament set. These ornaments include fill-ins, melodic lines, and sound effects that perfectly match the chords. No matter which keys you play, you'll have the right accompaniment.
Watch this walkthrough of MONSTER OctaChord features and how to use it:
Other features of MONSTER OctaChord are:
Instant Chord Progression for your song, no music theory needed.
Cover many music genres.
New FREE presets will be added continuously in the future.
Master Volume and Master Panning.
Master Reverb FX and Master Delay FX.
Chords Volume and Ornament Volume (And some presets have additional Vinyl Volume).
This plugin is under the MonsterDAW brand, which previously was hosted at www.MonsterDAW.com but has moved to this www.AgusHardiman.TV
Notes: MonsterDAW is a brand owned by me, Agus Hardiman, the host of this AHTV Blog
Demo Video of Monster OctaChord
Stamatis Stabos made a cool walkthrough of Monster OctaChord's presets using his 2-octave Arturia Minilab MIDI Controller and and Behringer TD3 RD6 :
Why The Size of MONSTER OctaChord is So Big and No MIDI-OUT Feature?
This plugin is a ROMPLER and consists of 18 presets, each containing 12 scales. Each scale is comprised of 15 files, 8 for chords and 7 for ornaments. Assuming each chord/ornament file is stereo and in 4 MB in size, with a sample rate of 48 kHz and a bit depth of 24 bits, here's the calculations:
18 presets x 12 scales x 15 stereo files = 3240 stereo files
3240 stereo files x 4MB = 12,960 MB = 12 GB of files
However, I have optimized some presets, so the plugin size is smaller (still 6GB after unzipping).
Initially, I designed each preset to have only 1 or 2 scales, such as C Major and G Major. However, I realized that users may want to create music in other keys as well. That's why I included all 12 scales to provide greater flexibility.
I am a full-time music producer, and I have developed this plugin as a hobby, offering it for free. Since I am not a professional programmer, my current software has limitations in reducing its size. Since this is only version 1, perhaps in the future, I will explore different programming software that includes a built-in MIDI player, which could result in a smaller file size and maybe a MIDI-OUT feature so user can have their own virtual instrument plugins. I'm sorry this version 1 doesn't have those features!
So, that's the reason behind it (Regards, Agus Hardiman of MonsterDAW)
Monster OctaChord Download Links and Installation Steps
Monster OctaChord is a free plugin available in Windows VST2/VST3 64-bit and Mac VST2/VST3/Audio Unit 64-bit formats.
There's no installer so you have to put the file manually. Read and follow these steps:
Download the "MONSTER OctaChord v1.zip" according to your computer's OS (Mac or Windows) here:
Main Download Link (Use another link below if this server is busy):


Alternative Download Link 1:


Alternative Download Link 2:


Alternative Download Link 3:


UnZip the "MONSTER OctaChord v1.zip" to your hardisk.
If you use Windows and Cubase, Studio One, Ableton Live, Reaper, FL Studio, Reason, etc, put the .dll file to the VST2 folder OR the .vst3 file to the VST3 folder of your DAW (If you don't know the location, googling "VST folder location windows").
If you use Mac and Cubase, Studio One, Ableton Live, Reaper, FL Studio, Reason, etc, put the .vst file to the VST2 folder OR the .vst3 file to the VST3 folder of your DAW (If you don't know the location, googling "VST folder location mac"). If you use GarageBand or Logic Pro, put the .component file to the Audio Unit folder of your DAW (If you don't know the location, googling "audio unit folder location mac").
Copy the folder "MONSTER OctaChord v1 Library" as it is, with no change of the folder structure to your external hard disk or any hard disk.
Fire up your DAW and load the MONSTER OctaChord plugin and it will ask for the location of the sound library:

Choose the "MONSTER OctaChord v1 Library" which you have copied on step 5.
ENJOY the plugin!

NOTES: For Mac users, MONSTER OctaChord v1 plugin is not signed yet so if you encounter a problem that the plugin is detected as harmful (actually it's not), you can try to google on "how to install unsigned software on Mac OS X". Or you can follow the direction in here: wikihow.com/Install-Software-from-Unsigned-Developers-on-a-Mac
How To Automate Monster OctaChord Parameters?
In Cubase, after inserting the Monster OctaChord plugin, you have to open the automation lane (I'm using Monster Synth as the example):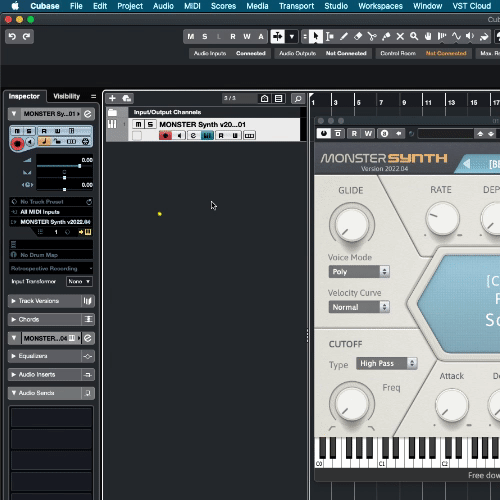 In Studio One, go to the Piano Roll and add the parameters to automate (I'm using Monster Synth as the example):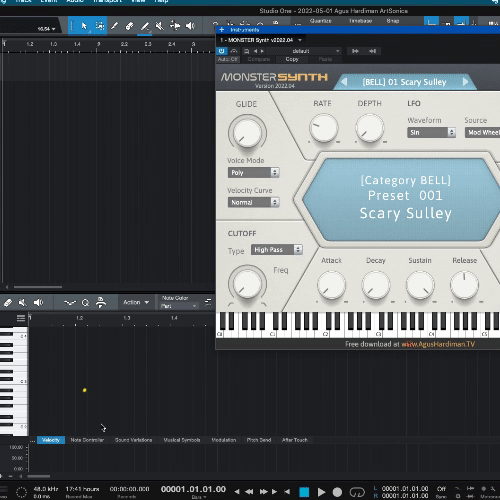 In other DAWs, find a way/to Google on how to add automation lanes/tracks.
FAQ About Monster OctaChord
Q : I want XXX and YYY features of Monster OctaChord, can you program it?
A : To be honest, I'm a professional musician and audio educator BUT I'm not a professional plugin programmer. I do this just for fun, so your request may not be available (but you can always try to ask me via the CONTACT page).
Q : Why there are no VST 32-bit versions anymore?
A : In the past, I made a 32-bit version of my VST. But now my programming software CAN'T output 32-bit plugin anymore, so I'm not providing 32-bit.
Q : I have a problem using this plugin on my Mac, I'm using Monterey/Big Sur/Catalina. It says that the files are damaged or can't be opened because the developer is not trusted.
A : That problem was caused by Mac OS security which is now very strict. I have applied for a developer account in Apple to be a trusted developer but they haven't responded to my inquiry yet.
In the meantime, please watch these videos (If this is not working, it's ok, you can pass my VSTs ?):
Or read these articles:
And googling about it (some famous plugin developer experience this too).
Monster OctaChord Version History
Version v1-2023.07 (released on July 3rd, 2023):
1st release of MONSTER OctaChord.
18 presets with every 12 scales to choose from in various music genres.
Spread This Plugin To Your Friends
If you find this plugin useful, please spread this to your friends!
You can support me by joining membership of my Patreon : https://www.patreon.com/user/membership?u=91573631
If you make music using this and share it on your social media, please include the hashtag #MonsterOctaChord or #MonsterOctaChordVST so I can find it.
If you want to get notified when this plugin is updated, sign up for AHTV Newsletter on the front page of AHTV.
ENJOY!