Before I talk about my opinion about AI, let's see what's the meaning of AI.
Artificial intelligence (AI) refers to the simulation of human intelligence in machines that are programmed to think like humans and mimic their actions. The term may also be applied to any machine that exhibits traits associated with a human mind such as learning and problem-solving

Source: www.investopedia.com
I remember back in 1998, I use a music software called 'Band-In-A-Box' (Do you recall it too?)
One of the features of BIAB (short for Band-In-A-Box) is to generate a musical instrument improvisation based on some known musicians/artists.
For example, within a certain chord, let's say: C – Am7 – FMaj7 – G11, I can choose George Benson, Kenny G, Phil Collins, or Earl Klugh as an improviser and BIAB generates musical improvisation automatically:
BIAB can generate song melody, chord progression, musical style, even song title. It was mind-blowing back then.
Basically, Peter Gannon, the maker of BIAB have injected his own take on AI at that time (he start making BIAB back in 1990).
After BIAB, I rarely find music software that has AI capabilities until iZotope came along.
Their Neutron 2 and Ozone 8 have AI capabilities. It can listen to your raw audio and give suggestions on what EQ, Compression, Limiter/Maximizer setting for your particular audio:
With these features, Neutron and Ozone have started the era of AI in the mixing and mastering process.
Since Ozone, there is some auto-mastering website like www.mastering.studio :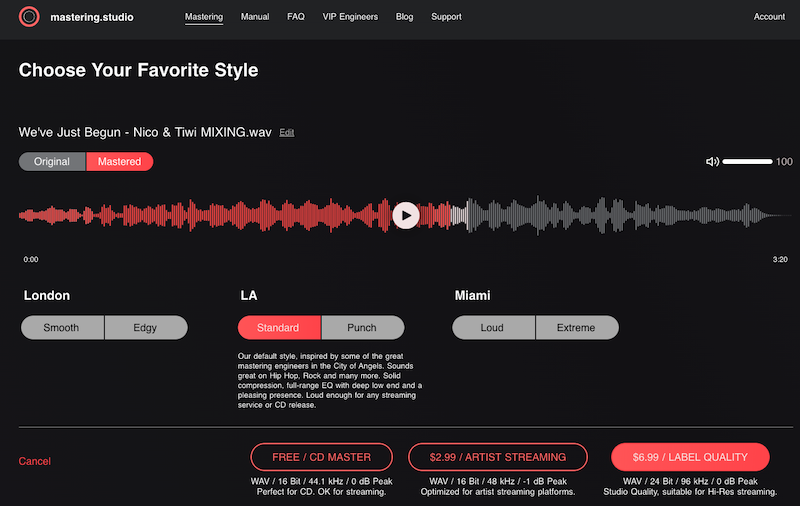 In music composing, there are AIVA with their tagline 'The Artificial Intelligence composing emotional soundtrack music'. AIVA can generate a complete music composition automatically:
Of course, there are other AI-based music software exist (do you know one?) but let me spill my feeling about AI:
At some point, AI can be helpful in cutting the time of audio work. Of course, AI should be used as a starting point, and it's our job to complete our own music.
AI forces us to be better musicians/music producers in the sense that we should always learn to be better than AI-generated music. If not, we are doomed!
AI is already been used by music software developers (in fact it's from 1990 if you count BIAB software) and we CAN'T stop it. So either you embrace it or vanish.
So, is AI good or bad for us?
It depends!
If you are just starting out in music production and use AI-based heavily, it will make you dependent on AI and not growing your skill. So make sure that you always learn your skill.
For veteran music producers, it helps you to achieve things faster. Because you already have some skills, you will not dependent on AI and will use it as an assistant and you still have your own take on your music.
Now, what do you think of AI?